Hunting and Fishing Information





Llano County - The Deer Capital of Texas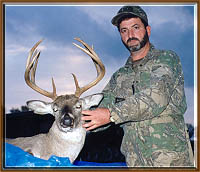 Pecan Creek and Dutch Mountain Ranches are in the Central Mineral Region of the Edwards Plateau. This area of Texas supports not only the biggest variety of animals in Texas, but also harbors the highest quantity of those species. Consequently, this area has been aptly named the "Deer Capital of Texas."

These ranches have been game managed for many years. White-tailed deer census counts are conducted to determine harvest recommendations for the deer season. Quality bucks are produced on consistent levels through controlled harvest while management progress is monitored through tabulation of data retrieved from each animal taken.

Pecan Creek Ranch lies 3 miles NW of Llano. The 1900 acre ranch is characterized as "Mesquite Savanna" country with rolling hills and a medium to thick cover of live oaks, elm, mesquite, and hackberry. Several large stock ponds dot the ranch and provide fishing for bass and catfish. Package hunts of one white-tailed buck, one management buck, two does, one gobbler, unlimited hogs, and five days hunting are available for $2,750.00 per gun for groups of 6 to 8 hunters. Excellent lodging is included! See Pecan Creek Lodge for details.



Dutch Mountain Ranch is 1245 acres in SW Llano County adjacent to Enchanted Rock State Park. This scenic area has a history of early Indian habitation. The ranch has areas of thick cover with huge granite outcroppings and two sandy creeks that join. Dutch Mountain is season leased during the gun deer season. Excellent lodging is included! See Dutch Mountain Lodge for details.

Both ranches have off-season hunts for hogs available as well as Spring turkey, quail, dove, and fishing.
Guestbook Comments From Hunters:
"First class place. Had a great time!" R. P... - Lenoire, N.C.

"Best hunt I ever had." Danny M... - Lenoire, N.C.

"You certainly have a fine ranch and the hunting was outstanding. Your warmth, friendliness and superb hospitality made for our 'BEST' hunt in my 35 years of Texas deer hunting." Gary C.... - Rogers, Arkansas


For hunting information contact Gene Hall at (512) 633-4386 or Kip Reagor at (512) 217-8483.


Century Ranch Lodging
Gene Hall
P.O. Box 488
Llano, Texas 78643
Please Call
(512) 633-4386
Or Email
gene.hall@me.com